brushes
The perfect brush is the key to applying Buff'd Mineral Cosmetics - and we have them.
Not all synthetic brushes are created equally. Each of our brushes is specifically selected for use with mineral make up. They pick up color well and deliver a soft and smooth application. Synthetic bristles are hypoallergenic and safe for sensitive skin. They clean and dry quickly and do not shed. They are extremely durable and provide for the softest application of Buff'd Mineral Cosmetics.
individually pouched, 100% synthetic hair brushes. cruelty free and vegan approved.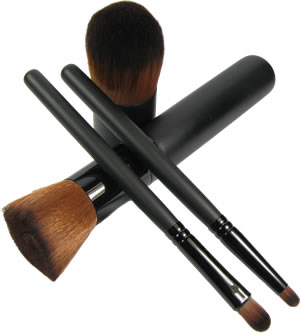 | | | | |
| --- | --- | --- | --- |
| | Fine tip for detailed eye or lip lining and smudging. Brush length is... | | Fine tip for detailed eye or lip lining and smudging. Brush length is... |
| | Firm but soft flat edge brush perfect for eye and lip lining. Brush length is... | | Firm but soft flat edge brush perfect for eye and lip lining. Brush length is... |
| | Robust tip for easy smudging and blending. Brush length is approximately 5 1/2... | | Robust tip for easy smudging and blending. Brush length is approximately 6... |
| | Soft all-over shader for mineral eyeshadows. Brush length is approximately 5... | | Soft all-over shader for mineral eyeshadows. Brush length is approximately 6... |
| | Soft angled tip for blending and shading. Brush length is approximately 5 1/2... | | Soft angled tip perfect for blending and shading. Brush length is approximately... |
| | Soft sculpted tip for blending and shading. Brush length is approximately 6... | | Soft sculpted tip for blending and shading. Brush length is approximately 6 3/4... |
| | Dual ended - soft all-over shader on one end with the perfect line on the... | | Very large robust blender. Perfect for applying concealer or mineral... |
| | Soft brush for expert blush application. Brush length is approximately 6 1/4... | | Soft brush with rounded bristles for expert blush application. Brush length is... |
| | Larger face brush great for cheek and face powders. Perfect brush for all over... | | Larger face brush with rounded bristles great for cheek and face powders.... |
| | Luxurious flat top. Brush length is approximately 6 1/4 inches with a 1 1/4... | | Robust buffer. Like a long handled kabuki buffer this brush provides for the... |
| | Full size kabuki buffer. This brush provides for the perfect application of our... | | The same luxurious flat top as our Jumbo Flat Top - just smaller! Perfect purse... |
| | Full size kabuki buffer in its own matte black metal case with retractable... | | Seven piece mini travel set with carry case. Set includes (left to right in... |