brushes



fantastic brushes are the key to applying mineral makeup - and we have them.
not all synthetic brushes are created equally. each brush is specifically selected for use with mineral make up. they pick up color well and deliver a soft and smooth application. synthetic bristles are hypoallergenic and safe for sensitive skin. they clean and dry quickly, are extremely durable and do not shed.
individually pouched, 100% synthetic hair brushes.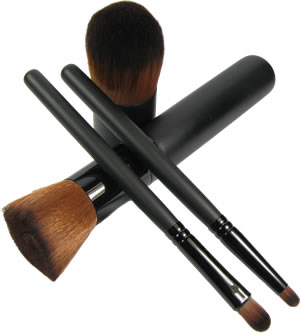 | | | | |
| --- | --- | --- | --- |
| | Fine tip for detailed eye or lip lining and smudging. Brush length is... | | firm but soft flat edge brush perfect for eye and lip lining. they pick up... |
| | robust tip for easy smudging and blending. they pick up color well and deliver... | | soft sculpted tip for blending and shading. they pick up color well and deliver... |
| | soft sculpted tip for blending and shading. they pick up color well and deliver... | | soft smaller shadow for packing on the colour. they pick up color well and... |
| | soft all-over shader for eye shadow. they pick up color well and deliver a soft... | | dense blender. perfect for applying foundation or concealer. they pick up color... |
| | soft brush for expert blush application. they pick up color well and deliver a... | | larger face brush great for cheek and face powders. they pick up color well and... |
| | larger face brush with rounded bristles great for cheek and face powders. they... | | Luxurious flat top. Brush length is approximately 6 1/4 inches with a 1 1/4... |
| | robust buffer. they pick up color well and deliver a soft and smooth... | | Robust buffer. Like a long handled kabuki buffer this brush provides for the... |
| | smaller sized kabuki buffer. kabuki buffers provide for the perfect application... | | Full size kabuki buffer. This brush provides for the perfect application of our... |