color correctors
Formulated specifically for skin that needs a little extra help, Color Correctors help conceal discoloration from acne, scarring, rosacea and age spots.
A light dusting applied under your foundation, these feather-light powders will brighten tired, irritated and sallow skin leaving a spectacularly flawless complexion.
The Kabuki, Jumbo Buffer, Jumbo Flat Top, Small Pointed Face and Chubby Blender brushes are perfect for applying these loose-mineral powders.
ingredients: mica, titanium dioxide, zinc oxide, iron oxides, ultramarines (awaken shades do not contain mica)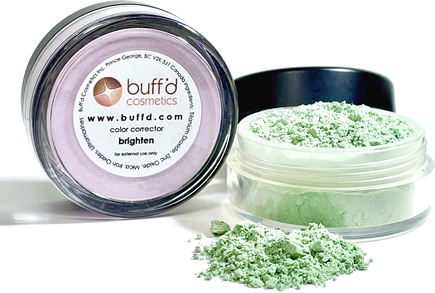 | | | | |
| --- | --- | --- | --- |
| | Pale pink. An all-over corrector that brightens dull, tired skin. Formulated... | | Pale purple. Helps even out dull, sallow complexions. Formulated specifically... |
| | Soft blue. Helps conceal orange tones from tanning and tanning products.... | | Light green. Helps conceal redness caused by acne, rosacea and sensitive or... |
| | Softest golden yellow. For under-eye circles and discoloration. Also works well... | | Pale golden yellow. For under-eye circles and discoloration. Also works well as... |
| | Light golden yellow. For under-eye circles and discoloration. Also works well... | | Medium-light golden yellow. For under-eye circles and discoloration. Also works... |
| | Medium golden yellow. For under-eye circles and discoloration. Also works well... | | Medium-dark golden yellow. For under-eye circles and discoloration. Also works... |