velvet matte eye shadow






stunning shades in velvety smooth formulations - beautifully soft and completely matte.
formulated using only minerals and pigments allowing for great wearabilty and stunning colors that will never fade. apply dry for soft color or try them damp for brighter, more dramatic effect.
ingredients: mica, titanium dioxide, iron oxides, ultramarines, chromium oxide.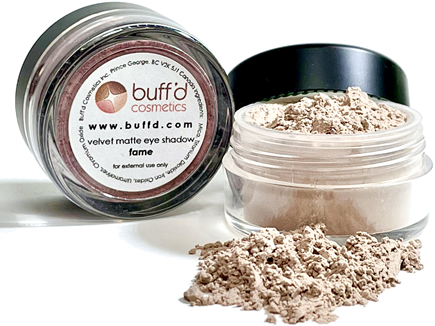 | | | | |
| --- | --- | --- | --- |
| | golden butter yellow stunning shades in velvety smooth formulations -... | | pale golden beige. stunning shades in velvety smooth formulations - beautifully... |
| | feather light pink. stunning shades in velvety smooth formulations -... | | light strawberry red. stunning shades in velvety smooth formulations -... |
| | warm auburn red. stunning shades in velvety smooth formulations - beautifully... | | soft mauve taupe. stunning shades in velvety smooth formulations - beautifully... |
| | plum taupe. stunning shades in velvety smooth formulations - beautifully soft... | | soft plum purple. stunning shades in velvety smooth formulations - beautifully... |
| | rich plum purple. stunning shades in velvety smooth formulations - beautifully... | | muted purple. stunning shades in velvety smooth formulations - beautifully soft... |
| | smoky purple. stunning shades in velvety smooth formulations - beautifully soft... | | smoky purple. stunning shades in velvety smooth formulations - beautifully soft... |
| | deep smoky purple. stunning shades in velvety smooth formulations - beautifully... | | creamy beige. stunning shades in velvety smooth formulations - beautifully soft... |
| | desert beige. stunning shades in velvety smooth formulations - beautifully soft... | | warm brown. stunning shades in velvety smooth formulations - beautifully soft... |
| | smoky brown. stunning shades in velvety smooth formulations - beautifully soft... | | smoky brown. stunning shades in velvety smooth formulations - beautifully soft... |
| | deepest smoky brown. stunning shades in velvety smooth formulations -... | | blonde beige. stunning shades in velvety smooth formulations - beautifully soft... |
| | medium sand beige. stunning shades in velvety smooth formulations - beautifully... | | muted bitter brown. stunning shades in velvety smooth formulations -... |
| | deep murky brown. stunning shades in velvety smooth formulations - beautifully... | | soft golden green. stunning shades in velvety smooth formulations - beautifully... |