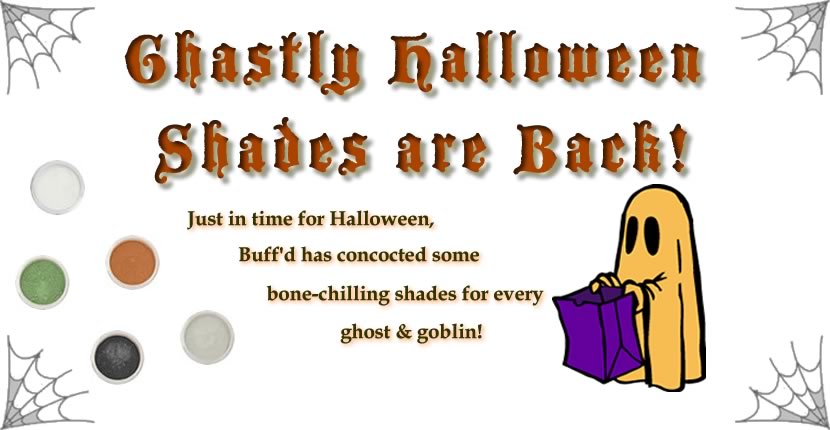 Our Ghastly Halloween Shades are Back!
Just in time for Halloween, Buff'd Cosmetics has concocted some chilling new shades for every ghost and goblin.
Special pricing for a limited time!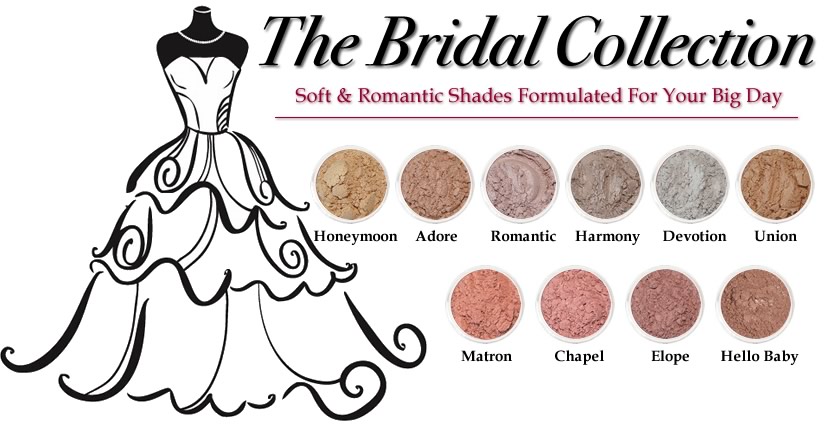 The Bridal Collection!
Soft & Romantic Shades Formulated for Your Big Day.
Six soft and pretty eye shadow shades and four beautifully luminous blush shades.
Specially formulated colors that are silky soft and timeless for a naturally beautiful and flawless look.
| | | | |
| --- | --- | --- | --- |
| | Vibrant shimmering orange - just like pumpkin pie! When mixed with a small... | | Superb sparkling black! For full effect, mix with a small amount of water. Can... |
| | Gruesome Green foundation. A must have for witches costumes. This vibrant green... | | Grizzly grey. For the best sickly and hallow complexion! The perfect foundation... |
| | Pure white foundation for the ghastliest skin tone! This thick white foundation... | | Shimmering black lipstick. Our all-natural lipstick formula made frightfully... |
| | Shimmering vintage gold. Part of The Bridal Collection - Soft & Romantic Shades... | | Muted bronze with soft pink undertones. Part of The Bridal Collection - Soft &... |
| | Classic feather pink. Part of The Bridal Collection - Soft & Romantic Shades... | | Chromed out bronze. Part of The Bridal Collection - Soft & Romantic Shades... |
| | Silver warmed with a touch of bronze. Part of The Bridal Collection - Soft &... | | Aged ginger bronze. Part of The Bridal Collection - Soft & Romantic Shades... |
| | Shimmering Peachy Pink. Part of The Bridal Collection - Soft & Romantic Shades... | | Shimmering Vintage Pink. Part of The Bridal Collection - Soft & Romantic Shades... |
| | Antique plum pink. Part of The Bridal Collection - Soft & Romantic Shades... | | Creamy bronzer with soft pink undertones. Part of The Bridal Collection - Soft... |
| | Incense - plum base eye shadow muted plum. Carbon Paper - plum crease eye... | | Scribe - blue base eye shadow crystal blue. Denim - blue crease eye shadow... |
| | Plaster - brown base eye shadow natural brown. Mousy - brown crease eye... | | Phantom - plum base eye shadow softest matte plum. Stumble - plum crease... |
| | Fade - blue base eye shadow softest matte charcoal blue. Darning - blue... | | Frayed - brown base eye shadow soft smoky brown. Crate - brown crease eye... |