bronzer
For that just-tanned look without risking the burn and other harmful effects of the sun. Buff'd Mineral Bronzer has great wearability and can be lightly brushed on your cheeks, neck and chest - or anywhere else you want that healthy sun-kissed glow.
Available in satin pearl and velvet matte formulations.
The Kabuki, Jumbo Buffer, Jumbo Flat Top and Small Pointed Face brushes are perfect for applying these loose-mineral powders.
ingredients: mica, titanium dioxide, zinc oxide, iron oxides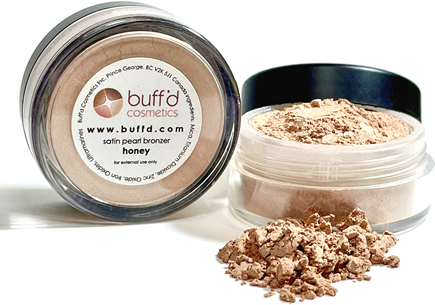 | | | | |
| --- | --- | --- | --- |
| | Lightest shade. For the fairest of skin tones. For that just-tanned look... | | Lightest shade. For the fairest of skin tones. For that just-tanned look... |
| | Medium-light shade. For that just-tanned look without risking the burn and... | | Medium-light shade. For that just-tanned look without risking the burn and... |
| | Medium-light shade. Just a hint darker than Maple. For that just-tanned look... | | Medium-light shade. Just a hint darker than Maple. For that just-tanned look... |
| | Shimmering medium bronze. For that just-tanned look without risking the burn... | | Medium bronze. For that just-tanned look without risking the burn and other... |
| | A rich medium-dark tone. For that just-tanned look without risking the burn and... | | A rich medium-dark tone. For that just-tanned look without risking the burn and... |