illuminating dust
gluten free (some shades also vegan and cruelty free)
Gloriously sheer powders formulated with the lightest iridescent micas that give skin a radiant and luminous glow.
Available in naturally soft shades, they can be applied as highlighters to your cheeks giving skin a healthy warmth. Illuminating Dusts can be worn alone or in combination with any of our mineral products.
The Small Pointed Face, Small Rounded Face, Large Pointed Face, Large Rounded Face, Jumbo Flat Top, Jumbo Buffer and Kabuki Buffer brushes are perfect for applying these loose-mineral powders.
ingredients: mica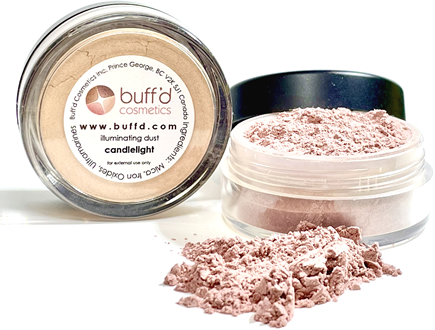 | | | | |
| --- | --- | --- | --- |
| | Pure white. vegan, cruelty free and gluten free Gloriously sheer powders... | | Soft and luminous off white. gluten free Gloriously sheer powders formulated... |
| | Soft golden glow. gluten free Gloriously sheer powders formulated with the... | | Creamy pink. Gloriously sheer powders formulated with the lightest iridescent... |
| | Soft bronze. vegan, cruelty free and gluten free Gloriously sheer powders... | | Golden copper. vegan, cruelty free and gluten free Gloriously sheer powders... |