august 2014 newsletter

Welcome to Buff'd Cosmetics!
Newsletter - August 2014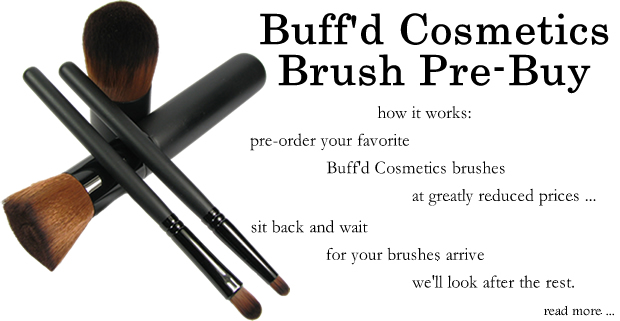 Buff'd Cosmetics First Ever Brush Pre-Buy!
If you have been thinking about investing in some new brushes then there is no better time. Buff'd Cosmetics is inviting clients to participate in their first ever cosmetic brush pre-buy.
Here's how it works:
*We have discounted all of our brushes by 40%!
*Pre-buy will take place between Tuesday, August 26 and Sunday, September 7.
*Order as many brushes as you would like. There is no limit of how many brushes you can order.
*Complete your order as usual.
*On Monday, September 8 we will order all of the pre-buy brushes.
*We should receive delivery of the brushes by September 19 and we should be able to ship all pre-buy orders on or before September 24.
If you are not in a rush... now is the time to get some new brushes at unheard of prices!