halloween ghastly shades are back!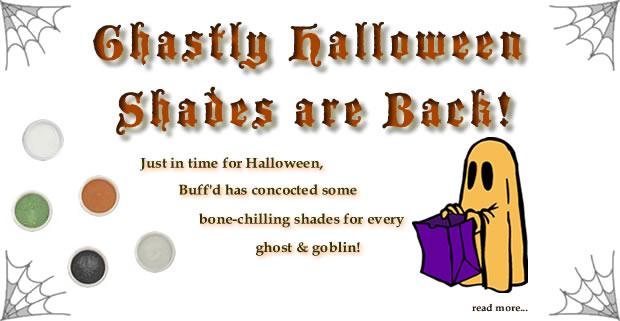 Just in time for Halloween, Buff'd Cosmetics has concocted some chilling new shades for every ghost and goblin.
For those frightening witch costumes we formulated Gruesome Green Mineral Foundation. Made from the same minerals as our Original formula foundations, Gruesome Green goes on a thick vibrant green but feels like wearing nothing at all! Our Death Becomes You foundation is perfect for those costumes where only the sickliest and hollow complexions will do! Together with our Ghostly White foundation we will make even the healthiest skin appear pale and sickly!
And of course, no costume would be complete without our Bloodcurdling Black lipstick - formulated with the same natural ingredients as the rest of our mineral lipstick line.
Pumpkin Pie and Fright Night Satin Pearl eye shadows are super sparkly vibrant shades which round out our Halloween collection!